However badly SA played in crashing to India by 130 runs at the Melbourne Cricket Ground yesterday - and badly is putting it kindly - there was no faulting AB de Villiers' willingness to take the disappointment on the chin.
Article sourced from the Times Live website.
"We were outplayed," De Villiers said in an assessment that was as scattered as it was comprehensive and excoriating. And so it should have been: he was talking about SA's biggest World Cup loss in terms of runs.
"All round, it was a pretty average performance by the bowlers," he said. "India's bowling was quite clever but it was definitely a poor batting performance [by SA].
"I almost don't want to think about it now. I just want to go feel sad in my room for now. But tomorrow we'll talk about it.
"You never want to lose by 130 runs. Your confidence takes a knock. It's up to the senior players to keep the confidence up against West Indies [who SA play in Sydney on Friday].
"We are going to have to chase after the younger players this week to keep their confidence up.
"We played the Indian spinners pretty well, but other than that it's pretty dark. We need to talk about what went wrong.
"We pitched up. We were emotionally ready. We weren't caught off-side in our attitudes. We just didn't play well enough."
De Villiers was particularly hard on himself and David Miller for being run out: "Two run-outs in the top six is absolutely unacceptable. It should have been my night or David's night. Instead, we were both on the sidelines, not having been dismissed by a bowler."
And, just to give SA another reason to forget yesterday, they were fined for a slow over-rate because India's innings ran 27 minutes late.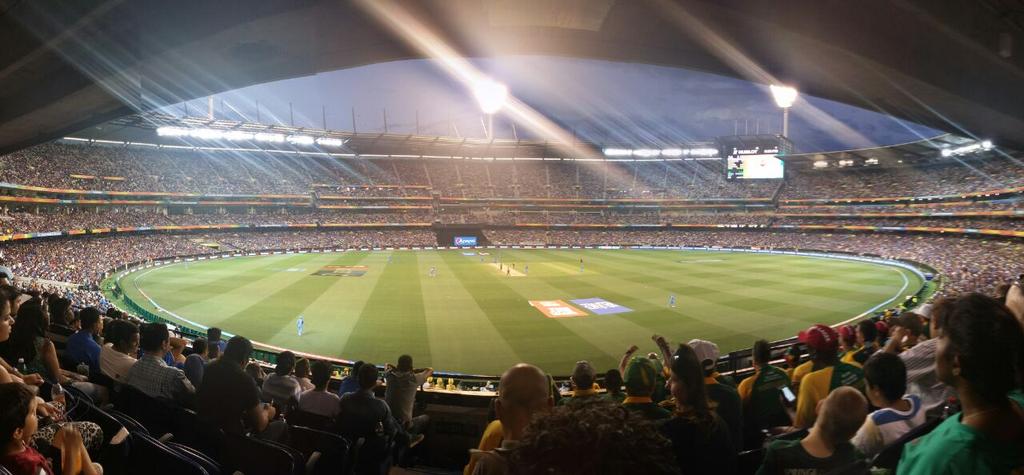 None of which will make the handful of SA fans in a crowd of 86876 - or, as MS Dhoni said, "Let's give them the benefit of the doubt and say there were 20000" - feel any better.
But there is something to be said for the fact that the captain is as bleak as they are. From that unity there might yet come strength.
Jade Christopher Bentley Adams signing off
(@jcba & IG @jcba_official)